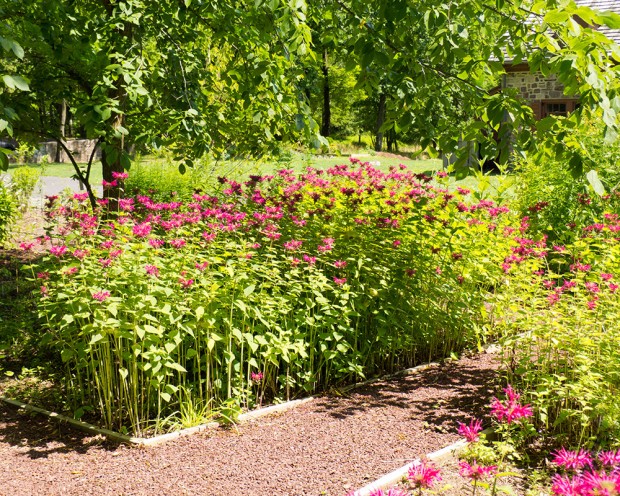 Garden of Native Plants
One of the primary goals of the landscape design at Moland House is to educate the public in the historical uses of Pennsylvania's native plants.  Because there is no direct archeological or archival information on the landscape during the time of General Washington's stay it was decided that the conservative approach would be install a garden of plants native to Pennsylvania.
The definition of a native plant is one that was here before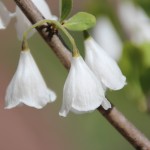 1492.  The reference The Plants of Pennsylvania, An Illustrated Manual by Rhodes and Block was used for purchases of plants.
Work began on the garden in 2000 and it is approximately 80' x 30'.  Although not designed as an ornamental garden, there are four seasons of floral display by an assortment of trees, shrubs and perennials.  Varying heights, colors and textures abound.
Native Plants Used for Dyes
Native plants were used to dye textiles during the colonial period.  This is a list of some plants that were used for dying.  Several colors are listed for the plants depending on which part of the plant used (such as the roots, stems, leaves, berries, flowers, etc.) or what substance/chemical used as a fixative:
Butterflyweed, Asclepias tubersoa – green, yellow
Paw paw, Asimina triloa – black, brown green, red, yellow
Blue false indigo, Baptisia australis – black, brown, green, orange, purple, red, yellow
Redbud, Cercis Canadensis – black, brown, green, orange, red, yellow
Elephant's food, Elephantopus carolinianus – black, brown, green, yellow
Hydrangea, Hydrangea arborescens – black, brown, green, yellow
Black walnut, Junglans nigra – brown, orange
Beebalm, Monarda sp. – brown, green, yellow
Pokeweed, Phytolacca Americana – yellow
Mayapple, Podophyllum peltatum – black, brown, yellow
Black eyed susan, Rudbeckia sp. – black, brown, green, purple, yellow
Elderberry, Sambucus canadenis – brown, yellow
Bloodroot, Sanginaria canadenis – brown, orange, yellow
Goldenros, Solidago sp. – black, brown, green, yellow
American germander, teucrium canadense – black, brown, green, yellow
Blueberry, Vaccinium sp. – black, brown, orange, red, yellow
For more information related to Pennsylvania native plants visit the Pennsylvania Department of Conservation and Natural Resources (PA DCNR):  http://www.dcnr.state.pa.us/forestry/plants/nativeplants/index.htm