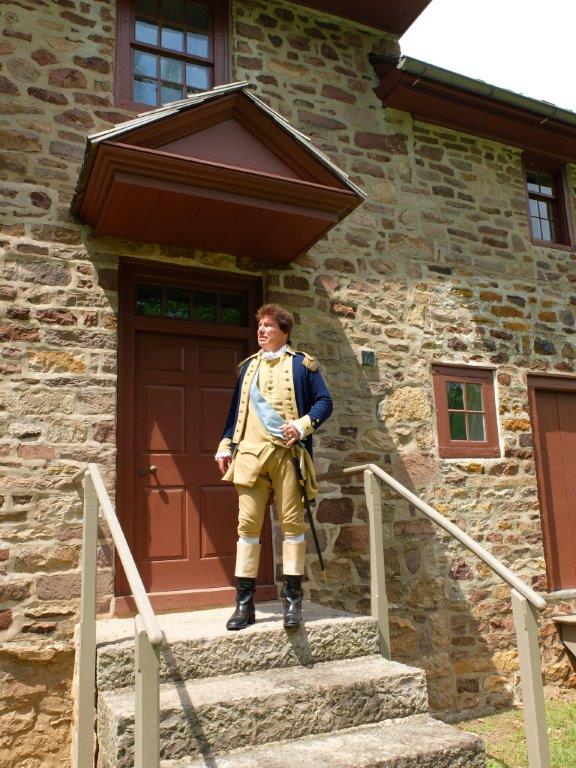 The Encampment – On July 31st, 1777, the Continental Army was marching on its way from New Jersey to Philadelphia.  General Greene decided that the area around the Moland House was a good place to camp for the night.  The Army was off to Philadelphia the next day.  While camping at the "Falls of the Schuylkill" the decision was made to march to New York.  On Sunday, the 10th of August, word was received that a large British fleet had been sited off of Delaware Bay.  Again, the Continental Army was near the Moland House and decided to camp in the area.  Moland House became Washington's Headquarters.  Waiting for more word of the fleet, the Army stayed at Moland until 3:00 am on Saturday, August 23rd.  During that stay, the Marquis de Lafayette came to join Washington's army, as a Major General.  Count Casimir Pulaski met Washington for the first time, at Moland.  Later, in September, Count Pulaski also joined the Army, as a General, and the U.S. Cavalry was then borne.  A Council of War was conducted on August 21st that included thirteen men of note from the history of our nation.  Every year, during the time of the Neshaminy encampment, the Warwick Township Historical Society conducts a reenactment that includes the Pennsylvania 5th and many artisans demonstrating life in Colonial times, to the attending public.
Guided tours of Moland House are available between 1 PM and 4 PM on the second Sunday of every month and additionally on the fourth Sunday between April and October.  Suggested donation for a guided tour is four dollars for adults, three dollars for students and seniors and free for children under six.  Special events, even when they occur during our Open House, require a fee as advertised on the event flyer.
Special, group and private tours can be scheduled by calling 215-918-1754 and leaving a message.  We will return your call to discuss details, costs and  schedule.  Educational visits are available to schools, youth groups and Scouts.
A self-guided tour of our well-marked Nature Trail around the entire twelve acres of the Moland Park and gardens are open to the public during daylight hours all year round.  Entrance and parking are on Route 263.  This tour is further enhanced with a program guide in a box at the starting point, near the Native Garden,  and QR coding.
UPCOMING EVENTS – MARK YOUR CALENDAR                                                 
September 10th: Open House with Archaeology
September 14th: Board of Directors meeting

September 24th: Open House with Archaeology
October 8th: Open House with Archaeology
October 12th: Board of Directors meeting

October 22rd: Open House
November 12: Open House 
November 24 – December 2:  Craft Fair 
December 9:  Christmas Dinner at Moland
December 10: Open House

Board Meetings begin at 7:30 pm; Open House is from 1 to 4 pm. Archeology is from 11 am to 4 pm

Please check our calendar for additional events.