Spring tea is a lovely tradition at the Moland House.  Held in the historic 1750 museum with colonial reenactors, live music, and delicious catered treats; the tea is an excellent opportunity for family and friends to pass a pleasant spring afternoon.
2015 Spring Tea was April 19th:  The 2015 Tea had a historic quilt theme with Barbara Harrison, showing us quilts patterned after those of the colonial period.  The small quilts used by soldiers for sleeping and then as a burial shroud were most interesting.   Quilter Donna Cohran, Nancy Elias, Nancy Crowther, Rosemary Arnold, and children's author Debbie Dadey have donate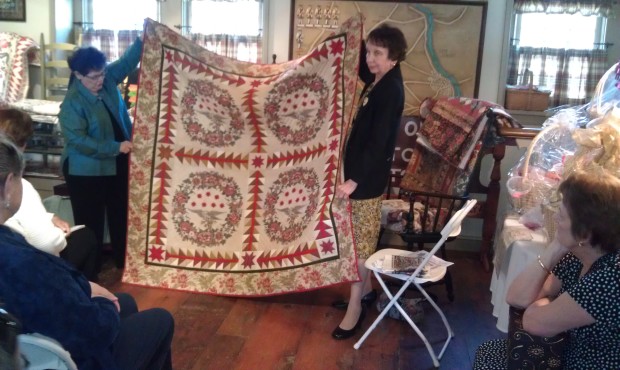 d to be sponsors.  Would you like to be a sponsor for a future tea?  Please email events@moland.org.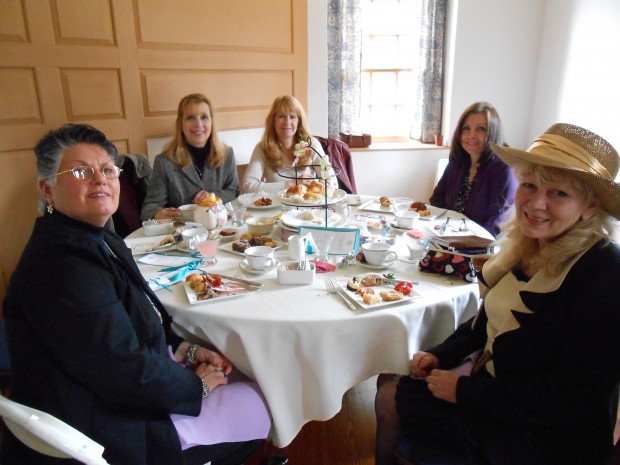 2014 Spring Tea on March 23rd:   Putting our 1770 fashion foot forward we enjoyed a delightful catered event complete with prizes for the silliest, oldest, ugliest, and smallest shoes.  We took a walk back with colonial shoe expert Cheryl Lewicki.  Thanks so much to the following sponsors for making the event so much fun:
Cheryl Lewicki for donating her time and talents
Gene Blum of Drexelbrook Catering
Marie-Laure Chemin and the CB South French Club
Bucks County Children's Museum
Debbie Dadey, Children's Author (www.debbiedadey.com)
Michelle Lewicki and Nancy Crowther for basket donations.
2013 Spring Tea: The 2013 tea was held on March 10th at 1:00.   Click here for a newspaper article and video of the event. Colonial fashion
expert, Sue Tafel, joined us for a colonial strip tease to show us the many layers a proper woman of 1777 wore.  While we enjoyed the Drexelbrook Catering (Gene Blum) goodies, East High School students entertained us with a fashion show, a juxtaposition of modern and 1777 fashions.  The modern day fashions were supplied by Eileen Roth of Cabi.  Without the sponsors below, the event would not have been possible.  Please patronize them and thank them for their support, as we do!
Washington Level ($100 or greater)
Drexelbrook Catering
Eileen Roth (Cabi)  www.eileenroth.cabionline.com
Penn's Woods Puppet Theatre (Sue Tafel)  www.PennsWoodsPuppetTheatre.com
Lace Silhouettes Lingerie in Peddlers Village
The Cotton Company in Peddlers Village  www.cottoncompanyforall.com
Betsy Ross Level ($50 or greater):
Clare Reilly, WTHS secretary
Debbie Dadey, children's author www.debbiedadey.com

Pulaski Level: ($25 or more)
Brother's Pizza in Jamison
Giant Foods in Jamison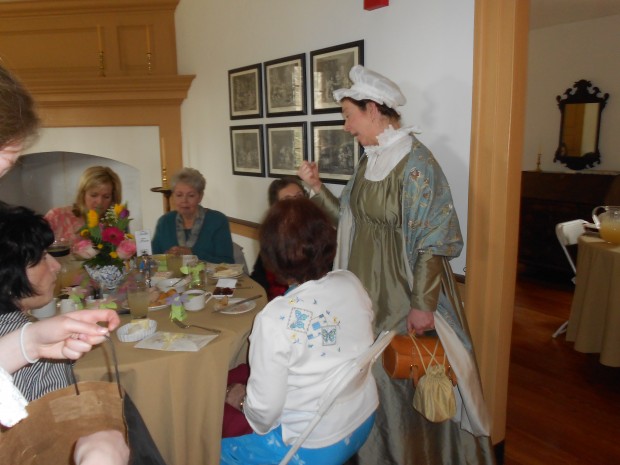 Spring Tea 2012
2012 Spring Tea:  Abigail and John Adams joined us for our March 18th tea.  Harp music and delicious food made it a day to remember!  Our events would not be possible without the contributions of sponsors who support the rich history of Bucks County.  For the 2012 Spring Tea, we graciously thanks these donors:
Washington Level ($100 or greater)
John Kennedy Ford
Drexelbrook Catering
Betsy Ross Level ($50 or greater):
Hand and Stone Spa
The Zen Den
Clare Reilly, WTHS Secretary
Lorraine and Ken Barlow, WTHS
Debbie Dadey, children's author
Ellen's Secret Garden Bookshop
Gwyn Duffy
A Secret Garden Flowers
Cabi with Eileen Roth
Pulaski Level ($25 or greater):
Budget Printing and Marketing
Artefact at the Village Barn
The Zen Den
Amenities Salon
Ginny Wolfe
Luigis Ristorante Italiano
Mom's Flower Shoppe
Subway Warwick Square
Jessica Spa
King of Tarts Bakery
Becky Dadey, WTHS member
2011 Spring Tea:  Martha    Washington and Oney Judge reenactors, beautiful violin music, and lovely food helped to make this day special.  Many thanks to the wonderful sponsors who make this day possible:
Washington Level ($100 or more):
Astro-Dynamic Print and Graphic Services
Artistic Expressions Dentistry
Cabi with Eileen Roth
Darrell Jennings Photography
Delaware Valley College Strings/Mary Ward
Drexelbrook Catering
Lux Interiors
Hand and Stone Spa
Betsy Ross Level ($50 or more):
Cornerstone Club
Debbie Goetz Media Connections
Debbie Dadey, children's author
The Hartsville Fire Department/Ed Pfeiffer
Pulaski Level ($25 or more)
Amenities Salon
Chuck E. Cheese
Genuardi's Family Markets
Julie's Nails
Luigis Ristorante Italiano
Mom's Flower Shoppe
Randazzo's Pizza
Rollabels
Stutz Candies
Subway Warwick Square
The Talking Teacup
TD Bank