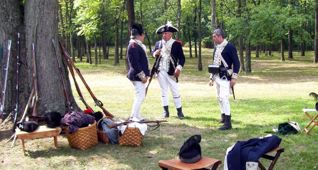 KEEP HISTORY ALIVE IN WARWICK TOWNSHIP!
Each year we have a reenactment to celebrate Washington's August 1777 encampment. The grounds of the Moland House come alive with 18th Century music, children's games, and demonstrations of colonial crafts.    The 2015 reenactment is scheduled for August 15 from 10:00-4:00.  The rain date is the following Saturday on August 22nd.
The Warwick Township Historical Society has worked long and hard to save the Moland House from ruin!  How many communities can boast of a 13-day encampment by Washington and 11,000 troops of the Continental Army?  No place in the United States but the Moland House can claim to be the site where the Marquis de Lafayette first assumed his duties as a Major General, and Washington met Count Casimir Pulaski for the first time!  This house is a national treasure in our own back yard.
In addition to being a wonderful learning opportunity for the community, our reenactment is an important fundraiser for the Historical Society. All proceeds go to deferring the cost of the reenactment and to support the Moland House.  Admission to the event is: Adults $5.00; Seniors (62+) $4.00; Youth (5 – 12) $2.00 ; Families (Parents and children) $10.00.
Attractions this year include:
Continental Army encampment with the 5th Pennsylvania Regiment
18th Century music
Wool and flax spinning
18th Century woodworking
Blacksmithing
Puppet show
18th Century children's toys and games
Embroidery
Quilting
Folk painting
Powder Horn Making
Tours of the Historic Moland House
Archeology screening
[portfolio_slideshow size=large]
Patrons will be acknowledged at the following levels:
General — $100.00 and up
Colonel–$50.00
Major — $25.00
Captain — $15.00
Lieutenant–$10.00
All patrons will be acknowledged in the WTHS newsletter, on our website, www.Moland.org, and in the program for the day.
For $50 your name or the name of your business will be placed on a star plaque which will be  displayed at the event in addition to a listing in the program.
For $100 or more your name or your business name will be placed on a George Washington plaque which will be  displayed at the event in addition to a listing in the program.
Please fill out the following form.
Name or business name for listing _________________________________
Address  ______________________________________________________
Phone Number   ___________________________
Circle patron level.     General       Colonel        Major         Captain          Lieutenant
Please make all checks payable to WTHS.  Send your contribution to PO Box 107, Jamison, PA  18929  attn:  Reenactment.