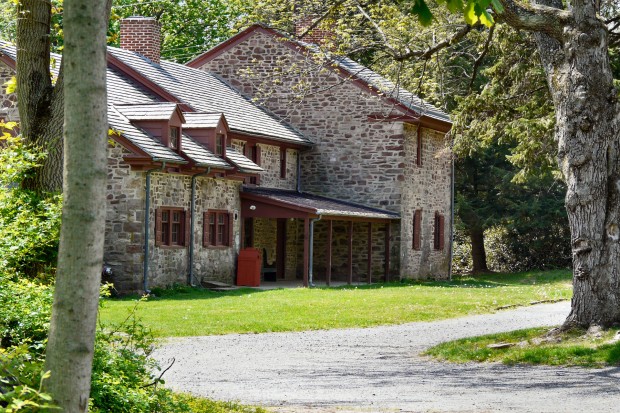 The original portion of the Moland house was built by John Moland in the mid-1700's.   In 1761, following John Moland's death, the house was transferred to his daughters and youngest son.  Mrs. Moland continued to live in the home following her husband's death and was residing in the home at the time of the Neshaminy Encampment when George Washington and the troops stayed on the property.
During the "13 days of August 1777" (August 10-23) meetings were held in home in what is currently referred to as the "Council of War Room".  Attendees at those meetings would have included General Washington, Marquis de Lafayette, Count Pulaski, Alexander Hamilton, and other notable individuals.   Documentation is not available to indicate whether Washington stayed in the house or outside the house in his tent with the troops.
In 1789 the house was sold by the Moland Family and ownership was transferred to a number of individuals over the next 200 years.  In the 1940's an addition (which currently houses the visitor's center and library) was constructed.  During the late 1900's the house was not maintained and as a result was condemned as unsafe.   In 1989 the house was placed on the National Register of Historic Places and  in 1996  Warwick Township received ownership of the house and surrounding acreage.
In 1997 the Warwick Township Historical Society entered into a management agreement with the Township to restore, maintain, and operate the facility for the benefit of the public.  Thanks to the hard work of volunteers and restoration specialists Moland House was returned to the way it looked centuries ago.  Below and here are some photos of the Moland House today.

—————————-